If you're brand new to stock photography, you might be wondering what exactly you should photograph.
This can be a common sticking point for beginners.
Or maybe you just need some new content to freshen up your current image libraries.
If you're in need of some inspiration for your next shoot, professional stock photographer Marilyn Nieves has an idea for you…
Shooting What You Are Passionate About
By Marilyn Nieves in Atlanta, GA
The idea of making money off your photography sounds awesome, doesn't it?
Many photographers thinking about getting into stock photography get stuck on what photos to submit and end up wasting time just hoping to start doing it someday once they figure it all out.
Does that sound familiar? I did that, too, for about a month before I got the same advice I will share with you…
Don't worry about it so much that it stops you from submitting altogether.
In time, you will learn what sells and how to shoot it. For now, start shooting what you are passionate about and submit that.
Think about what brings you joy and excitement in your life. Is it bugs out in nature, rebuilding motors in your garage, or is it your cute nephew or grandson that comes to visit you every week? Perhaps you volunteer at the local animal shelter or you enjoy taking the kayak out on the lake. Pick something you enjoy the most and start photographing it.
For example, I love riding my motorcycle and sometimes it's hard deciding if I want to go out for a ride or if I want to go out and photograph. When that happens, I usually end up dressed in leather with a small camera strapped around me. Here are few stock images I created around that passion: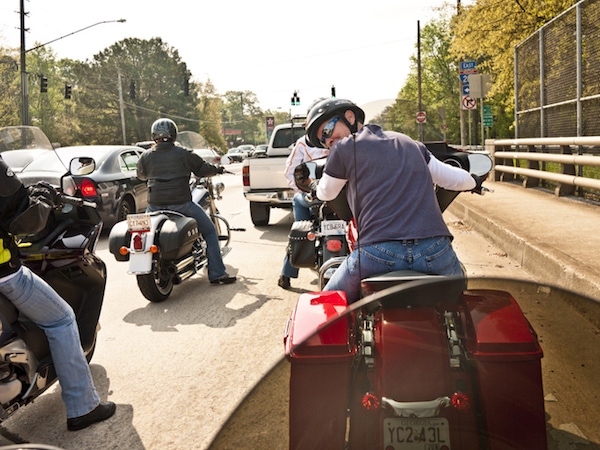 When I'm not riding solo, I'm out with an all-women riding group. I took this photo above at a stop light. I called out to my riding buddy and when she looked back, I was ready to snap the photo. The light turned green just at that moment.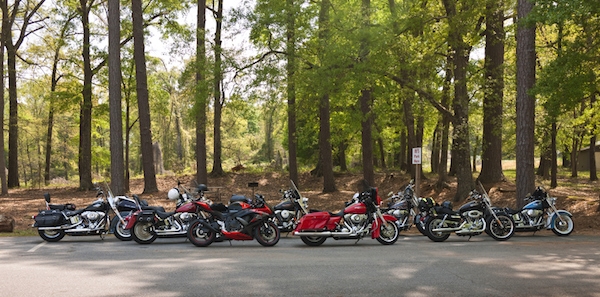 This group photo of our bikes was taken on one of our national park rides. We parked in a nice shaded area to avoid a hot seat after our hike. Little did the ladies know that shade is also the perfect lighting for this kind of photography.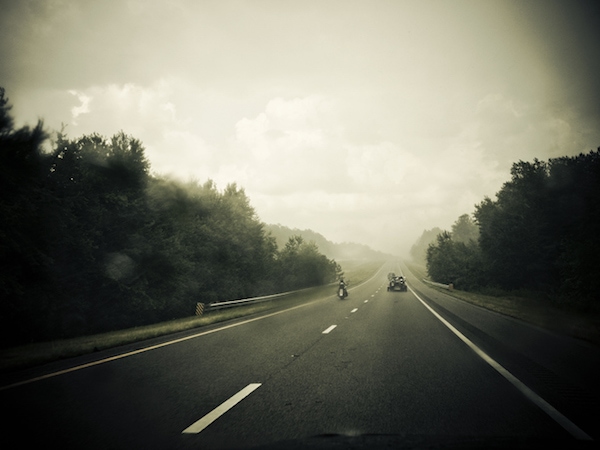 Occasionally, I'll join in on an extended road trip. This one took us from Georgia to the Outer Banks, where we enjoyed the beach for a week.
Several of us were riding but we also had two SUVs with open trailers. When we saw the storm approaching, we decided to trailer most of the bikes, but two of us had to keep riding because there wasn't room for all the bikes in the trailers.
As we drove closer to the storm, it made for some dramatic imagery. I had already decided to jump in one of the trucks and try to capture some shots. Not only did I get some lovely stock
photos, but it's also an experience I'll never forget and reminisce on when I see the photos. This is the beauty of photographing what you love.
No matter what you are shooting, there is a story to tell. And with every story, you are conveying an emotion. Is it sadness, happiness, or simply curiosity? Maybe it's all of them.
Think about what story you want to tell and what you want to share about your passion, then document it from beginning to end. It can really be anything.
As you shoot, upload and repeat, the sales will come in time. All the while you will be photographing something you love… and that passion will come through in your photos.
[Editor's Note: It's true! One of the best things about stock photography is that you decide what you want to shoot. Making sales is about picking out the best photos you've taken and submitting them with good keywords. If you're a Snap & Sell Photo Club member, sign into your members-only page to watch my getting-started video series that will walk you through each step. And if you're not a member, yet, you can sign up here!]