Yesterday I did something unusual… but I think it's going to pay off.
We're always telling you to take the prettiest pictures possible. With travel stock photography, you want to portray a place in its best light.
Go at sunrise or sunset. Wait for a clear day with popcorn clouds in the sky. Find bright colors and eliminate trash, clutter, and distractions.
But what do you do when the sky is so polluted you can barely make out the Taj Mahal in the distance? Here's the scene I dealt with a couple of weeks ago on our India expedition:
Air pollution happened to be extremely high while we were there. It's burning season and farmers are creating a lot of smoke.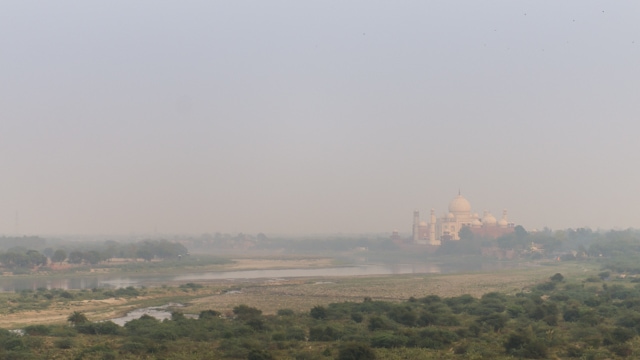 Naturally, when this happens you want to focus on shooting detail shots. And there was still plenty to shoot. Colorful spices and architectural details. Women in colorful saris. Food, tea, henna, camels… so many things.
But I knew that India's current air pollution had been in the news — both locally and internationally. And since right now world leaders are meeting to talk about reducing emissions all over the planet… this photo seemed timely.
So I submitted it. And… it got in!
If you decide to submit a photo like this to a stock agency, make sure you do a couple of things:
Title and keyword it accordingly.

Instead of calling this "View of the Taj Mahal," I called it "Air Pollution over the Taj Mahal in Uttar Pradesh, India." My keywords included the Taj Mahal, but focused on pollution, smog, smoke, haze, and other environment-related words.

Make it obvious what you're trying to do.

If the photo looks a little hazy, it might not be a good representation of air pollution. Stock inspectors might think it was simply taken in the wrong lighting conditions. But if it looks REALLY hazy, it's more obvious to the viewer what it's about. This photo isn't as extreme as it could be for the "concept" of air pollution, but it does realistically show the current issue in an obvious way.

Give it a try.

Got a photo of something ugly? Why not submit what you've got and see what happens? Fellow reader Lisa Top recently found success when she submitted a photo of termite droppings from inside her home. It's now her best-seller on iStock. So you never know!
Of course, do your best to take beautiful photos, too. 🙂