Have you ever wondered if black and white photos can sell as stock?
Color images obviously dominate stock photography collections, however, sometimes a striking black and white can be just the ticket.
Let's take a look at a few of the best-selling black and white photos on iStock and see what makes them so successful.

When you're looking to add a sense of timelessness to your image, black and white is perfect. As you can see above, this trick works with both buildings and people. Shots that make the viewer feel sentimental or nostalgic have a broad appeal and a wide range of uses for photo buyers.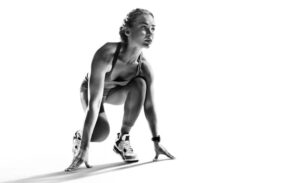 Running shoes and apparel are usually brightly colored, which can actually be kind of distracting for the viewer. By removing color, the main focus becomes the expression on the woman's face. Her intensity, along with the light and shadows, creates a dynamic black and white image. The bright background also provides the perfect canvas for designers to add text.

Black and white pairs really nicely with moody and mysterious. The fog and the alternation of light and shadow creates a layering effect that adds a ton of depth to the images above. In color these shots would be kind of blah, but as black and white they pop.

Lines, patterns, and color definitely stand out in black and white. Knowing this, you can create some eye catching and dramatic images like the shots above which graphic designers love.
If you'd like to learn more about creating strong black and white photos for stock, you should join our Snap & Sell Photo Club Photo Challenge this month!
You'll get a stock-specific guide for shooting in Black and White, along with the opportunity to join in our group photo critique to further your learning.