This week, let's delve into my favorite photography topic… natural LIGHT!
Outdoor light can vary wildly depending on time of day, season, and weather. Although you never know exactly what you're going to get, a savvy photographer can use the light they have to their advantage, no matter what.
Learning how to make the most out of every lighting condition will be a game changer for your stock photography.
Let's take a look at four different lighting scenarios and how to approach them:
Overcast Light:
Overcast skies may seem boring (and they can be in some photo situations, like landscapes), they also create lovely soft light. Perfect for photographing people and activities. You won't have to worry about harsh shadows or bright highlights, and it's pretty easy to get the right exposure in your camera.
Overcast light is also the perfect time to photograph close-up detail shots, water, and fall foliage. And it never hurts to add your own pop of color, such as the red hat and sweater in the adorable image by stock photographer Danny Warren, below.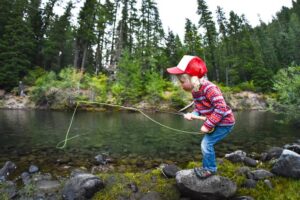 Sunrise and Sunset Light:
Ah, golden hour. The light that photographers dream of. It's always worthwhile to check the weather and plan your shoots around sunrise or sunset when you can. From portraits to landscapes, pretty much any subject looks amazing in golden light. These two chairs below pair perfectly with a sunset scene, beckoning the viewer to have a seat and enjoy the show. Photos that make you want to be there in the moment are pure stock photo gold.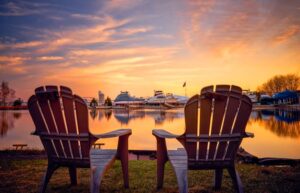 Twilight, AKA "Blue Hour":
Don't forget to stick around after sunset to photograph twilight. This is the time of day when the sky turns a deep blue, emanating a calm and ethereal mood. It's the ideal time to photograph things like city lights, reflections, architecture, and campfires. You will need a tripod to capture these, as blue hour tends to be dim.

Harsh Light:
Dealing with bright sun and dark shadows is tricky, but it can be done. This kind of high contrast lighting pairs well with subjects that are dynamic, energetic, and vibrant. When done thoughtfully, bright skies can create a blank canvas for copy space, which is always useful for stock. This kind of lighting also lets you create silhouettes, which work great for stock as well. This image of a silhouetted family running in the sun is a great example of how to successfully tackle challenging light.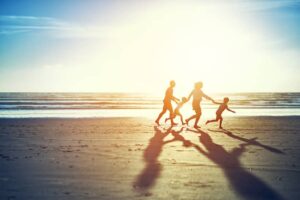 I hope this gives you some inspiration to get out and photograph, ready to make the most of whatever light you have!