Have you heard the news?
Google recently made it MUCH easier for people to find and purchase stock photos!
Now, when you run a search on Google Images, a small badge will appear in the lower left corner of every photo that is available to license.
I tried it out by searching for some images of tango dancers which I sell on Shutterstock, and it worked like a charm.

Here's a closeup view of one of the thumbnails, so you can see what the little badge icon looks like. Also, when you hover over it, the word "Licensable" appears. This will help make it more obvious to anyone using Google Images, that the photo is available for sale.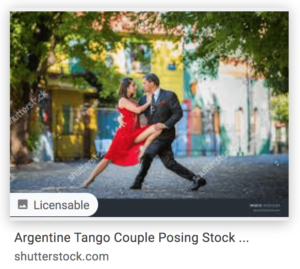 And it gets even better! Now, when you click on an image to view it, Google has included a link to the website where the photo can be licensed directly. That's pretty sweet! Here's what it looks like: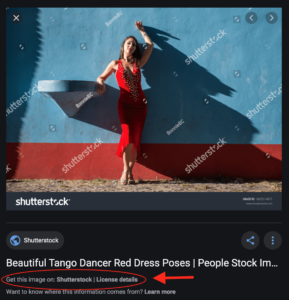 For my tango shot pictured above, the link goes directly to the purchase page on my Shutterstock portfolio.
Thanks, Google!
This is all made possible through behind-the-scenes metadata written into each photo. (
Not sure what metadata is, or how to add it to your photos? I'll cover that next week, so stay tuned.
Shutterstock has been one of the first stock photo agencies to take advantage of this new feature from Google, but I would expect all of the major stock photo companies to get on board soon.
Anything that makes it easier to find and purchase an image is great news for stock photographers and stock photo buyers alike!
If you want to geek out on the details, you can learn more at Google's blog here.