You never know when a great photo opportunity will come along.
That's why it's always a good idea to have a camera bag ready to roll with all the essentials.
Here's a handy checklist to make sure you don't forget anything important!
-Spare camera batteries. There is nothing worse than lining up the perfect shot, only to have your camera die.
–Lens wipes & Rocket blower. A microfiber cloth, lens wipe, or air blower is essential to quickly remove dust specks and water droplets in the field.
-General purpose lens. I like to keep a versatile, walkaround lens on my camera. Something in the 18-55mm or 24-70mm range should do nicely.
-Paper model releases. Even though model releases are available on cell phone apps such as Easy Release, it never hurts to carry a couple of paper versions in your camera bag as a backup, along with a pen.
-Memory Cards. It's always a good idea to have several spare, empty memory cards tucked in your bag.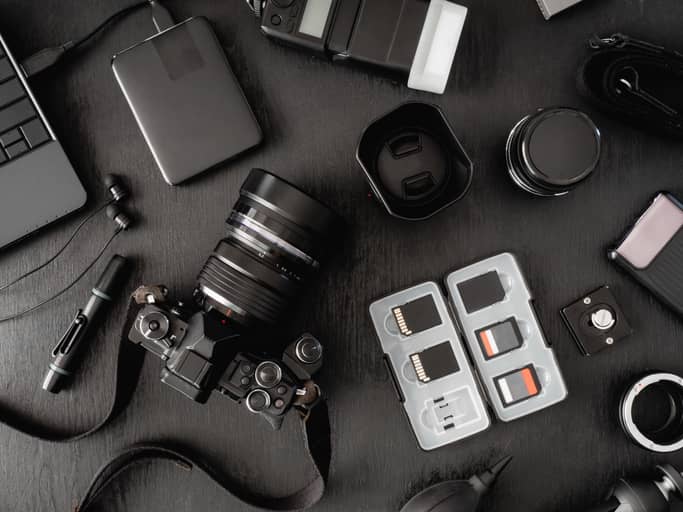 -Polarizing filters. If you photograph nature, landscape, or cityscapes a circular polarizer is essential for cutting glare and allowing colors to pop.
–Collapsible Reflector. Although it may be a bit too big to fit in your camera bag, these are great for adding a bit of light to portraits, flowers, and other small details.
-Small Tripod. It's amazing how handy a tiny tripod can be. From selfies to night photography to long exposure images, the uses are endless! There are many different models to choose from, but Joby tripods are great. They are quite lightweight but surprisingly sturdy and versatile.
-Headlamp. Never know when you might need it.
-Business Cards. A great way to share your contact info or spread the word about your photo business.
-Protein bar & water bottle. Gotta stay fueled up and hydrated!
-Camera rain cover. Most cameras can handle a light drizzle, but for heavier rain it's best to pull out a plastic rain cover like these from Op Tech or even a simple shower cap.  
–Multi-tool. There are endless uses for a good multi-tool.
Load up a camera bag with the items on this list, and you'll be ready for pretty much any photo opportunity that comes your way!
— Daniel