Danny Warren, from Portland, OR, is finishing up his master's degree in environmental management. In his spare time, he likes to hike and climb in the Pacific Northwest and abroad.
He totes his camera along, photographs his wife and friends out in the woods, and sells the photos online for a nice side-income.
Yesterday I got to eavesdrop on a phone conversation between him and Great Escape Publishing Director, Lori Allen. Lori's inviting him to speak at the Ultimate Stock Photography Workshop coming up this October in Delray Beach, FL.
On their call he mentioned that though the stock photo industry has gotten more competitive, there are a few things you can do to put yourself ahead of the pack.
These are the things he'll be talking about in Delray, but I caught up with him after the call and asked him to elaborate and give us Snap & Sell Photo Clubbers a sneak peak.
Here's what he said…
Interview with iStock Photographer, Danny Warren
Bonnie: Danny, what's your background in photography and stock?
Danny: I've never had any formal instruction in photography, but my father is a professional photojournalist and I have gained a great deal of knowledge from him. I stumbled on iStock in 2006 and figured I would give it a try, submitting a handful of photos I had sitting on my hard drive. Lo and behold, they started selling! I then joined a few other stock sites (Shutterstock, Fotolia, and Dreamstime) and tried to grow as a stock photographer. However, recently I went exclusive with iStock partly as a financial move, and partly to simplify my life.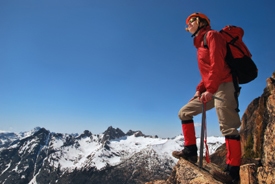 Bonnie: You mentioned on the phone that the stock industry has changed a lot since you got started four years ago. What are some of the changes you've seen?
Danny: When I first started there were fewer photographers and fewer images at each site. For that reason, it seemed almost any mediocre image would sell. Through time, more and more photographers have signed up and many stock shooters have matured artistically, too. So the caliber of the photos is much higher, and competition tougher. This environment is great for inspiration and learning, but it also demands a certain level of quality to see success.
Bonnie: What do you think is the best strategy for success in stock today?
Danny: There is no magic bullet to success, but two things have really helped me… The first is to make sure you have fun. If you are enjoying the process, you will be more likely to stick with it and improve as a stock photographer. The second is to focus on quality over quantity. The competitive nature of the industry today doesn't reward averageness. You'll get more sales from one photo that stands out above similar shots than you will from 10 so-so shots of the same subject.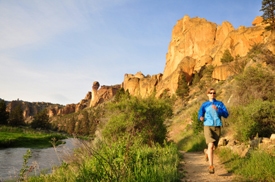 Bonnie: Looking at your stock portfolio, it's clear that you're having fun in your photography. It seems having fun and doing the things you already like to do can help develop a niche in your photography and lead to more success. Do you find that to be true?
Danny: Yes — almost all the photography I did prior to starting stock centered on trips in the outdoors. Photography and hiking/climbing were my two favorite hobbies and they complimented each other well. I was thrilled when I started in stock and realized I could make some money doing what I loved.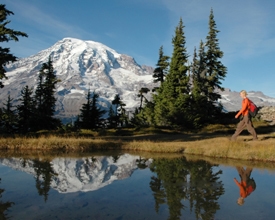 Bonnie: When you're out having fun, are you always on the lookout for stock shots?
Danny: The process for me starts before I leave home. I am constantly researching places to go and selecting gear and clothing that will be good for stock. Also, the people in my pictures are my wife and friends — not paid models. They're there to have fun outside and not spend all day posing for pictures. For that reason, many of the images I capture happen in the natural progression of a trip. I am constantly looking for the right combination of scenery and light and will set up a shot when they come together in the right way. In the end I think this process makes for more realistic images and more time for my companions to enjoy the trip, too.
Bonnie: Thanks, Danny!