One of the things that can really hold you back when it comes to stock photography is the belief that your images need to be better before you start.
Or that you need a better camera.
Or that you need more time.
And the list goes on…
It's easy to fall into the trap of thinking that everything needs to be perfect before you can start.
I know this from both personal experience and from talking with so many other stock photographers over the years.
Snap & Sell Photo Club Member Elizabeth Coughlan is someone who broke free of the perfection procrastination trap and is now thriving with stock photography.
Check out her interview below for some inspiration to get started today…
Interview with stock photographer, Elizabeth Coughlan
Bonnie: What attracted you to stock photography?
Elizabeth: As a constant traveler, stock photography is ideal for me, as I only have to upload my images and the agency does the selling. I only took up photography once I had retired from teaching in international schools around the world, so as a complete unknown as a photographer, it made sense to allow stock agencies to showcase my work which would otherwise remain undiscovered on my hard drives.
Bonnie: How long have you been submitting photos as stock?
Elizabeth: I began submitting for stock after a Great Escape Publishing Photography Workshop in Seville, Spain, with Efrain Padro in 2011. At first, I only uploaded a few to a couple of sites and made hardly any sales. In those days you had to wait until your sales reached $100 before you had any payouts and I didn't receive any checks until 2014.
Bonnie: What's the story behind your best-selling image?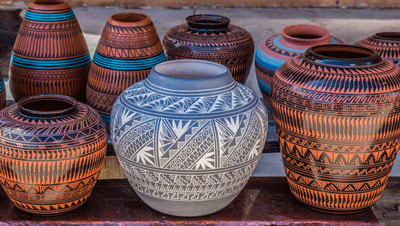 Elizabeth: This is my best-selling image on all my sites. It was taken at the GEP Ultimate Photography Workshop in Santa Fe, New Mexico in 2014. Shelly Perry had given a talk on stock photography, and then told us to go out and take pictures of anything we thought might be suitable for stock. I saw these pots on a stall outside a shop selling Native American Art and took just one photo. (Now I know to take several.) Just today, as I write this, I sold yet another one on Shutterstock. For some reason, it just keeps on selling. So far, this one image has made over $500.
Bonnie: That's great! About how much income have you made with stock so far?
Elizabeth: So far, I have made nearly $5,000 with my stock images. I now feel empowered and I have decided that I must keep on increasing my portfolios in order to make more sales.
Bonnie: Wow! Congratulations! What's your favorite thing about shooting photos for stock?
Elizabeth: As a retiree, shooting for stock gives me a purpose in life. Every day I can look forward to creating something new. Whether it is in processing my images or taking new ones, I am always busy. I never sit around wondering what to do.
Bonnie: Any tips for folks who are just starting out?
Elizabeth: Don't hesitate. Upload anything and everything, as you never really know what will work as stock. I wasted too much time trying to be perfect. Recently I decided to more than double the number of images in my portfolios. I put up some old ones from 2011 and they sold immediately. Just think how much they might have made if I had uploaded them way back then.
Also, never worry about rejections. One image I took of the countryside laid waste by the drought in NSW Australia was rejected by one agency as "Not Aesthetically Appealing." That same image was accepted by Shutterstock and has sold really well, mainly in Australia. So, you never know.
Bonnie: Thank you Elizabeth! Wishing you much continued success with stock photography!